Tennyson
Alfred, Lord Tennyson (1809-1892)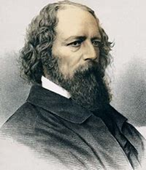 Alfred Lord Tennyson is a world-famous poet who was born in Lincolnshire. He was the Poet Laureate during much of Queen Victoria's reign and remains one of the most popular British poets of all time. You will learn more about his poetry in your English lessons through your time in the academy.
Lincolnshire played a large role in Tennyson's poetry and you can still visit the places so inspirational to him: his home village of Somersby, Bag Enderby where his father was rector, his school in Louth, his growing social life at Harrington Hall, inspirational spots like Stockwith Mill where the River Lymn babbles along and Tealby where his grandfather lived.
Although born to a working-class family, Tennyson always dreamed big of becoming a poet. Before he was a teenager, it was clear where is passions lay, so his father had to work hard to provide funds for Tennyson's education.
Tennyson was an artisan who polished and revised his manuscripts extensively. He demonstrated creativity, resilience, determination and perseverance, all of which students in Tennyson House strive towards.
You can go visit a statue in his (and his dogs) memory outside the Cathedral.
Tennyson famously said 'The shell must break before the bird can fly.'