St Hugh
St Hugh (1135/40-1200)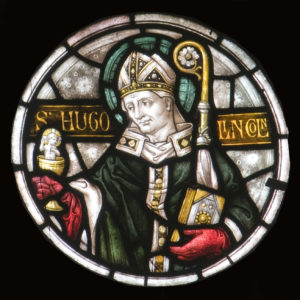 Born in France to a wealthy, noble family, St Hugh decided against following his father's footsteps in becoming a lord. Instead, he decided to follow his passion and dream to become a monk and then a priest, which he succeeded in 1160.
St Hugh arrived in England in 1179 and he became Bishop of Lincoln in 1186 because of his growing reputation of holiness and kindness. As bishop, he worked tirelessly hard to raise the quality of education in his district, and this lead to Lincoln becoming one of the leading educational centres in England. He is remembered as someone who fought for ordinary people and stood up to bullying kings.
One of St Hugh's most remembered actions was that after an earthquake caused structural damage to Lincoln Cathedral in 1185, St Hugh began work on reconstructing the Cathedral. In honour of his commitment, support and dedication to the people of Lincoln, his statue sits aloft the northwest turret. Hugh led from the front and reputedly worked as a labourer whenever it was possible. The result was the erection of a magnificent and awe-inspiring building. When he died in 1200, he was greatly mourned and his funeral was attended by two kings and many senior clerics. Soon after he was buried, reports of miracles began and, only twenty years later, he was proclaimed a saint.
Although the shine to St Hugh was destroyed by Henry VIII's orders, he is still remembered in the Cathedral as the 17th of November they celebrate with a Feast of St Hugh of Lincoln.
St Hugh was hard working, kind, proud and dreamed of a better world.