Library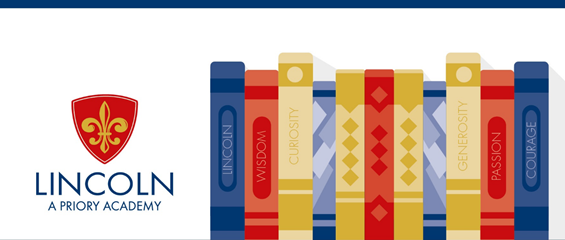 Our Library
At Lincoln, we have a well-stocked library including a range of fiction, non-fiction, poetry and plays. We aim to purchase new stock regularly, aiming to get hold of the latest and most popular releases. Our dedicated and friendly librarian, Mrs Holland, is always happy to support students in finding a book which is right for them.
Our books cover a wide range of interests and issues, and they range in challenge to enable readers at all stages of development to find a book they will enjoy reading. We recommend all students read for 30 minutes a day, and we encourage parents, carers and other family members to get involved with reading at home. This could be by listening to your child read aloud, or by reading aloud to them.
All Year 7 and Year 8 students are registered on our Renaissance Reading system. Four times a year, students take a reading test which allows us to predict their reading age and suggest a range of books at a level of challenge suitable to their current reading ability.
After reading a book, students complete an online quiz to check their understanding. Our system will then log how many words the student has read by finishing the book. We have a leaderboard in the library to track which classes and which students have read the most words throughout the year. Prizes are awarded at the end of term for those who have read the most words. Special prizes are given to students who become word millionaires (read over 1,000,000 words in the school year).
Older students will find much in the library to interest them too. We have many texts related to subjects across the curriculum, which students can use to explore topics which interest them in lessons in more detail outside of lesson time.
The library is also a safe place where students can come before school, during break, lunch, or after school to read or to complete homework.