Franklin
Sir John Franklin (16 April 1786 – 11 June 1847)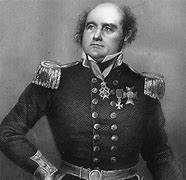 Sir John Franklin was born in Spilsby that is just outside of Lincoln. From childhood, he dreamed big and worked hard to be able to come a Royal Navy officer and Arctic explorer. He was successful in this and led two expeditions into the Canadian Arctic, in 1819 and 1825. During these expeditions, he faced many life-threatening challenges. Franklin kept going and never gave up.
By 1845, charting the final part of the North-West Passage was now within reach and Franklin was eager to claim the prize. He sailed for the Arctic in May 1845, but in late July, his ships were spotted waiting for ice to clear. It was the last time any of the crewmembers were seen alive. After some time had passed, it was clear that there was a problem and over 30 subsequent expeditions searched for Franklin, but with no success. In 1859, it transpired that Franklin's ships had become stuck in ice, apparently on the brink of success in navigating the North-West Passage.
During his expeditions, Sir John Franklin showed wisdom, courage, curiosity and passion in mapping out nearly two thirds of the Northern coastline of North America.