Murder Mystery Evening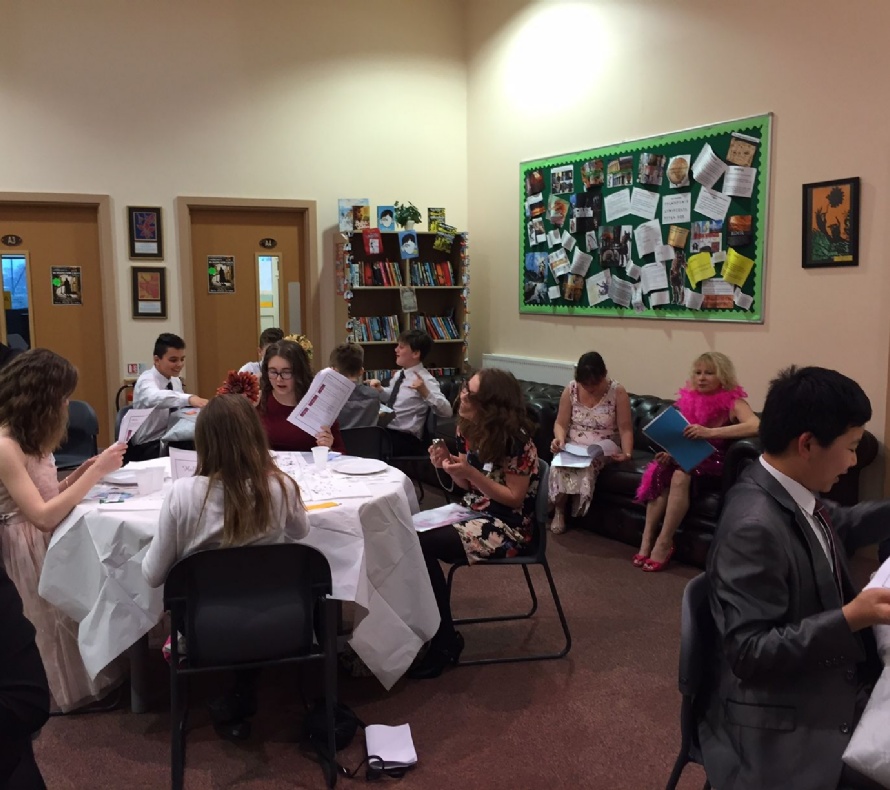 Hollywood Lies - 15th March 2016
Murder Mystery Evening: Hollywood Lies
Seventeen Year 8 students were selected by their classroom teachers to participate in a Hollywood themed murder mystery evening on Tuesday 15th March 2016.
Students and members of the English department were given a role of either: an actor, actress, agent, director or producer, with the main aim being to identify the killer who was amongst their group.
Elegantly dressed, they all entered the 'Arch' building which was set up like an Oscars' Award Ceremony for the 'Dazzled to Death' award party. The evening began with a formal introduction but soon enough turned into an evening filled with lies, deceit and confusion as to who the murderer was.
Alongside solving the crime, students had their own personal goals and objectives that they had to complete before the end of the night. One of these goals was to work as a team and create a scene lasting one minute for a film with only a title to work with. Creativity and imagination led the students to producing some excellent scenes which were both engaging and humorous. All seventeen students were able to step into the shoes of their given character and use skills of inference to identify possible suspects.
Teachers were thoroughly impressed with all the pupils but only six of them could be successful in winning a prestigious 'Eric' award. Those students were: Ajay Aitken (Best Picture), Harvey Lee-Howe (Best Actor), Ellie Clydesdale (Best Actress), Jack O'Hara (Best Male Costume) and Courtney Waby (Best Female Costume).
A fun filled evening was had by all and the party helped to develop the understanding of the Crime and Punishment theme the students are currently studying in English.