House Update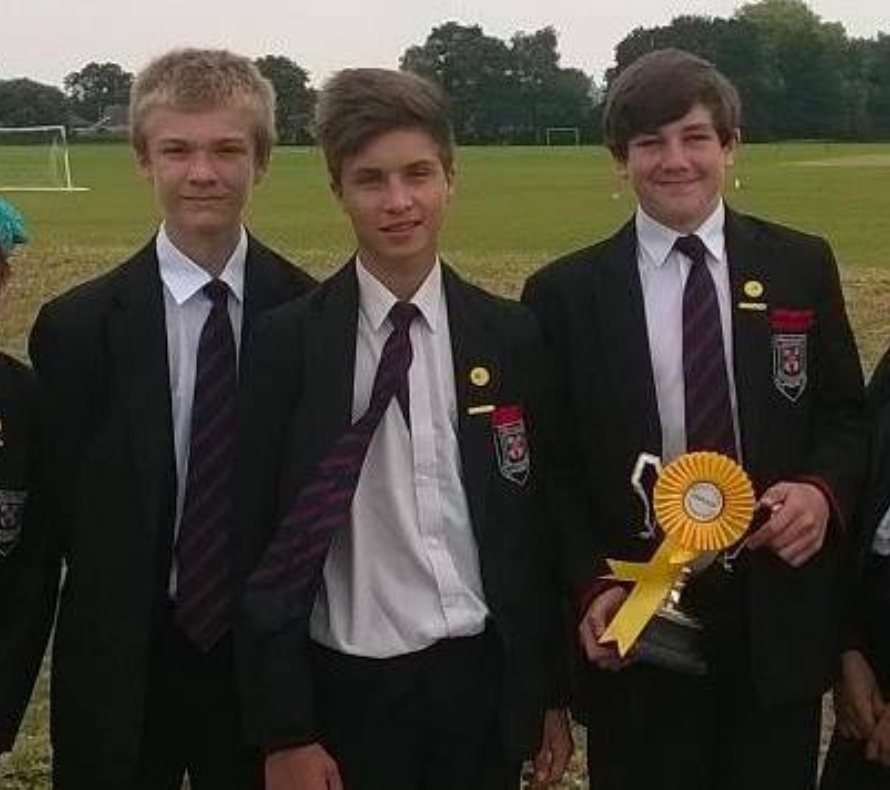 It has been another busy time in the House calendar, starting in January with the boys' basketball competition, which was won by Franklin.
In February, Year 7 battled hard in the swimming pool to complete the house swimming competition resulting in joint winners this year of St Hugh and Franklin.
All age groups from Year 7 – Year 13 were well represented and well supported in the girls' house bench ball competition - with Tennyson and St Hugh joint winners for the cup.
A 'fantastic places' competition in geography was won by Franklin and we await the results of a house photography competition.

Well done to all students who have supported their house in what is turning out to be one of the closest House Competitions for a few years!

Will Tennyson retain their 'House Champions' title from last year ? ……………… all will be revealed In July!!

House results for World Book Day = 1st Newton
2nd St Hugh
3rd Tennyson
4th Franklin
Miss Spencer, Art Teacher, has just organised a House Competition called 'My World'. Students are to hand in 6 photographs which represent their world. The winning photographs will be used as part of an exchange with a school in Lebanon. This will be the start of an exchange of information which will continue through to next term and will count towards the International Schools Award.

Tennyson:
This module has been eventful for Tennyson. Whilst continuing to raise money for MacMillan Cancer Support, Tennyson just pipped St Hugh to win the Comic Relief 'Red for Red' day (A margin of £1.19!!) On the sporting front, participation was at its all time high! Forty five students represented Tennyson in Benchball and Basketball. The current House champions finished joint first with St Hugh in Benchball and second in the Basketball. Elsewhere the World Book Day - 'Let me take a Shelfie' competition Tennyson finished third. The house also saw four of its students reach gold level status in their effort awards, a tremendous feat with still a third of the year to go! Tennyson will keep fighting till the last remaining house points are taken; Anxious times await Mr Liu and his House Captains to see if they can retain the much sought after PCLA House championship trophy!

Newton:
So far in the Academy's year Newton House have raised towards £250 it's chosen charity of the Lincolnshire and Nottinghamshire Air Ambulance through the weekly collection of small change within forms. Newton house is also leading the collection of used Batteries with the aim to help protect the environment and assist in achieving the European Union's directive of recycling 45% all batteries.

The house has also seen a number of individual achievements;

Jack Werrell recently took part in the 'Climbing Wall Challenge' which he individually raised £150 by climbing 87 ascents (694 metres). The following students have also received Gold commendation awards for their overall effort across the curriculum this year.
Year 10
Jasmine Gladding
Summer Hurdley
Liam Knight
Matthew Wilson
Year 11
Bethany Foster
Ellie-Mae Hunter
Jasmine Shearer.

St Hugh:
Harvey Malone was part of a team who came 4th at zonal schools trampoline competition.
Lucy Frow - 1st in 100m and 3rd in long jump at Lincoln Wellingtons athletics championships Alice Meanwell is now a level 1 qualified trampoline coach.
St Hugh won their first house cup – house benchball
Maisie Miller has qualified for the Rotary Young Chef regional finals
Katie Evans took part in TrueMotion 2015 as a member of the Academy Dancers team.
Sammy Boothright is undertaking a two week cricket tour of Sri Lanka during Easter

Franklin:
It has been a successful year to date within the Franklin house.
Prior to the festive period the year 7 Academy 5- a side squad (5 of the 8 players are Franklin) won the Lincoln and Gainsborough District in English Schools Football Association 5 a side football competition finals. They went on to represent the 'District' in the East Midlands regional finals in Derby. So a promising Franklin squad for the future in terms of house football events!
Other sporting accolades in Franklin house goes to Charlotte Means and Molly Banks who qualified to represent the Lincoln District in the County Cross Country Championships too!
In the house events we are leading with a slim margin over the three other houses at the midway stage at Christmas with victories in swimming, basketball, Year 7 Metro and Year 8 European Languages metro and the Geography 'Geophoto' competitions.
F7 tutor Miss Howell was 1 of 70 people to be selected to light a specially designed candle to commemorate 70 years of the liberation of Auschwitz.
At the beginning of the academic Franklin house handed over £320 to the Lincoln branch of the British Heart Foundation as part of the house charity.
This year we are supporting the St. Andrews hospice. So we look forward to your support in the near future with sponsorship.